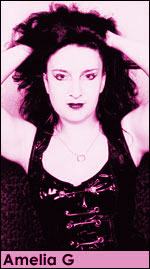 RubberDollies.com is the newest creation from the Blue Blood powerhouse creative team. Amelia G and Forrest Black are best known for founding Blue Blood, the seminal magazine of counterculture erotica.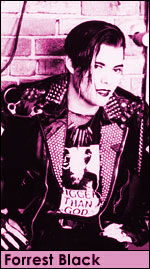 Internationally huge fetish mag Skin Two was the first publication besides their own to recognize Forrest Black and Amelia G's photographic talent. Over the years, the dynamic duo have covered a variety of topics for the British bible of fetish, including Circlet Press, The Chamber, Secret Room, Junkman's Daughter, La Petite More, DragonCon, Throb, 9 1/2 Weeks, Tornado Tattoo, and Warlords Leather Salon. Amelia G and Forrest Black now do the Big in America column for Marquis where they cover the U.S. fetish scene for a global audience. For Marquis, Forrest Black and Amelia G have done photography and writing on designers including Azrael's Accomplice, Carl Bridge, Pigalle, Maspien Leathers, Retail Slut, and more. They have also done erotic portraits and profiles, which often turned out to be career-launching, of top models and dominatrixes in the scene including Szandora, Mistress Domiana, Yolanda, Isabella Sinclaire, Ilsa Strix, Mistress Persephone, Scar, Batty, Dana Dark, and many others.
Amelia G and Forrest Black have also done writing and photography, including numerous magazine covers, for Tattoo Savage, Gothic Beauty, Secret, Taboo, Leg World, AVN, On Our Backs, Fetish, Extreme Fetish, Playboy, and Penthouse.
Amelia G wrote her Honors thesis on cross-cultural and historical vampire legends as a paradigm for aggressive human sexuality. She has spoken on fetish-related social anthropology at conventions and universities and on television and radio. Amelia G's fiction has been honored with inclusion in award anthologies including Best American Erotica, Best Women's Erotica, and Best SM Erotica.
Forrest Black is an extremely accomplished online information engineer. He has worked on sites for such heavyweight clients as Capitol Records, e*Trade, Lexus, and more. He has spoken on his areas of aesthetic and internet expertise at conventions and on radio and television.
Blue Blood has always attracted the best talents in photography, writing, design, art, and modeling. Rubber Dollies is another high quality project from the most respected and innovative creative team around. Check out the RubberDollies tour for more. You may also enjoy Blue Blood's other membership sites Barely Evil and Gothic Sluts.